5K Walk/Run – 2022
MGGH Hospital Week 5K run/walk Information
Start Time: 4 PM, at Build 8 of MGGH
Mt Grant's annual 5k walk/run event. Themed on April Fools day, there will be a preordained path for participants to follow. There will be a water station, and a complimentary BBQ afterwards.
If you want a T-Shirt, you must preorder by March 11th.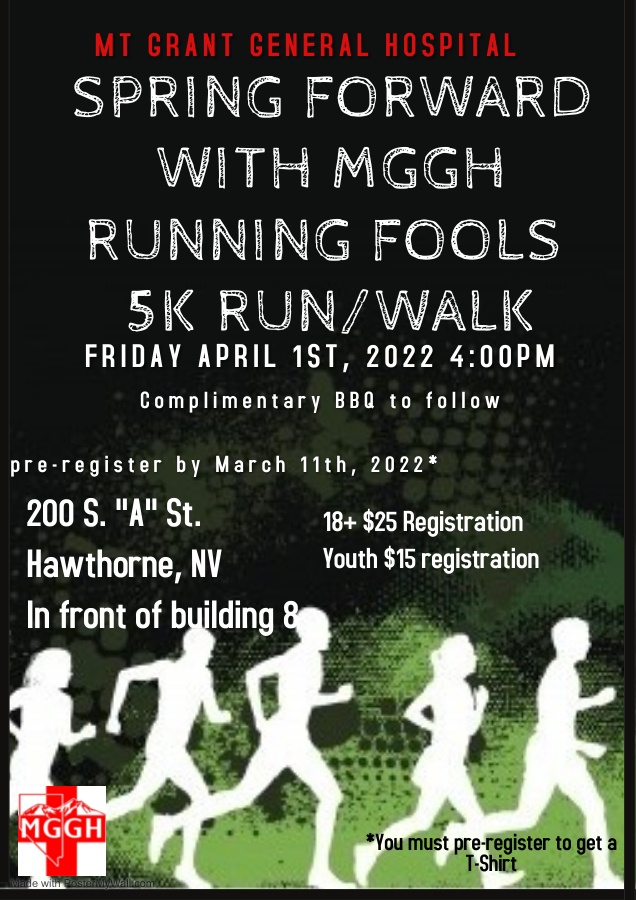 Registration:
In Person:
Download the PDF below, and fill it out.
Return it, with your money, to the Hospital.
VIA The Internet:
Registrations VIA online check-out will cost 1$ more.
Upon purchase, we will reach out and email you to confirm your shirt size if you're eligible.
Running fools 5K Run/Walk
$16.00 – $26.00
Buy now
When the Shirts come in, we will have them for pick-up at the event. Please call Hunter if you need your shirt shipped or earlier than the event.
If you have any questions or need to adjust any payments, please call Hunter Bolanos at (775) 945-2461 x270